Physical distancing in recent years has created the need for more spaces, preferably outdoors. It was an effective way to somehow decrease the number of Covid-19 cases during its height. Now that the pandemic has almost calmed down, the need for more outdoor spaces is still on the rise. While al fresco dining under huge umbrellas does the job, Vergola roofing systems can actually make it look more sophisticated, even touristy, and not to mention, safe. 
Outdoor spaces have an immense potential to enhance customer experience, expand capacity and increase profitability. Let us explore the diverse range of businesses that can benefit from Vergola roofing. 
Restaurants and cafes
Restaurants and cafes thrive on creating memorable dining experiences for their patrons. With Vergola, these establishments can transform their outdoor dining areas to make them versatile and weatherproof. The adjustable louvre system of Vergola allows business owners to control the amount of natural light, shade and ventilation, which ensures optimal comfort for customers throughout the year. 
From shielding diners from harsh sun rays during summers to providing shelter during sudden rain showers, Vergola offers an unmatched al fresco dining experience. 
Retail stores
Retail establishments can benefit from Vergola roofing systems in multiple ways. These systems can create visually striking storefronts, attract attention and set the business apart from competitors. By controlling natural light and ventilation, Vergola helps create a comfortable shopping environment, showcasing products in the best possible light while maintaining an inviting atmosphere. The retailers can adjust the louvres to control the amount of sunlight entering the store, preventing damage to sensitive merchandise and creating a pleasant shopping experience for customers. 
Vergola can also be integrated with lighting and signage options, further enhancing the visual appeal and branding of the store. 
Event venues
Event venues, such as wedding halls and outdoor function spaces, can also benefit from Vergola. These venues often host various events throughout the year, and having a flexible outdoor area can significantly increase their booking potential. With Vergola, event organisers can easily adapt the space according to the requirements of each occasion.
Whether it is a sunny afternoon wedding or an evening reception under the stars, Vergola provides the perfect backdrop by offering customisable shading and weather protection. 
Fitness centres
Fitness centres are no longer limited to indoor workout spaces. Many gyms now offer outdoor exercise areas to provide an invigorating fitness experience. Vergola plays a crucial role here, allowing gym owners to create an open-air workout environment that promotes well-being. The ability to adjust the louvres allows for controlled sunlight exposure, enabling gym-goers to enjoy natural light while protecting them from excessive heat or unpredictable weather. 
With Vergola, fitness centres can offer a refreshing alternative for exercise enthusiasts.
Hotels and resorts
Hotels and resorts aim to provide their guests with unforgettable stays, and outdoor spaces play a vital role in achieving this goal. Vergola offers these establishments an opportunity to create versatile and inviting outdoor areas that can be enjoyed year-round. 
Installing Vergola allows hotels and resorts to transforming their poolsides, rooftop bars and garden spaces into luxurious and comfortable retreats. Guests can relax, dine and enjoy the surrounding ambience without worrying about sunburn or rain disruptions. 
Educational institutions
Schools and universities can also greatly benefit from Vergola by utilising their outdoor spaces as engaging learning environments. Vergola's adjustable louvres provide opportunities for students to experience outdoor classrooms while ensuring their comfort and safety. 
The shading and weather protection offered by Vergola allows for year-round use of these spaces, enhancing the overall learning experience for students and teachers alike. 
Office spaces
Office spaces can greatly benefit from Vergola roofing systems by creating comfortable outdoor areas for employees to relax or hold meetings. These spaces provide a much-needed break from indoor work environments, allowing employees to recharge and connect with nature. With adjustable louvres, office buildings can control the amount of shade and natural light, creating a pleasant and productive outdoor working environment. The versatility of Vergola systems also extends to enhancing the entrance or reception areas of office buildings, creating an impressive first impression for clients and visitors. 
By providing shade and controlling natural light, Vergola systems contribute to a more comfortable and inviting workspace.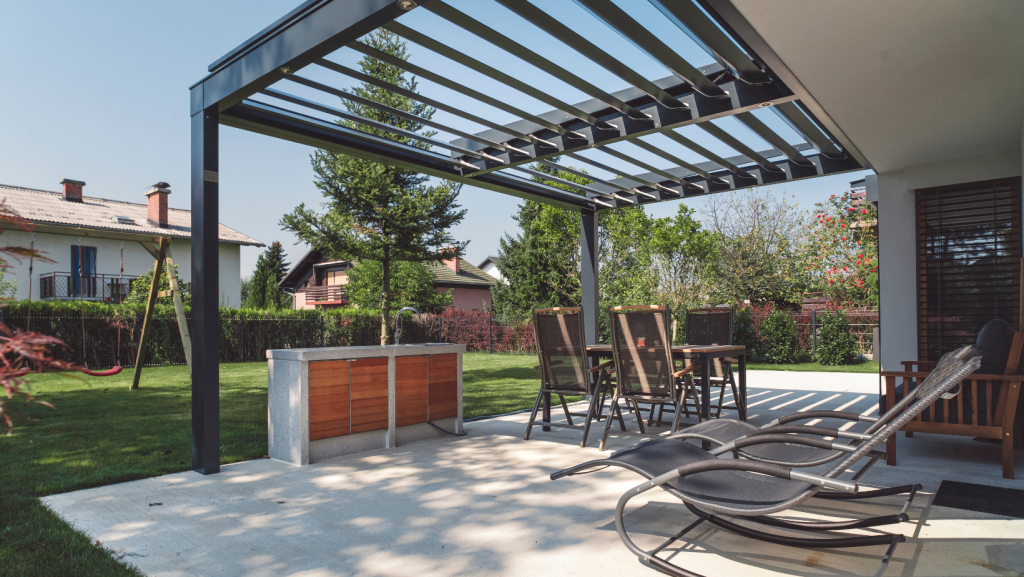 Transform your business space today
Transform your business space with the unmatched benefits of Vergola roofing systems today. VJF Systems, the sole distributor of Vergola roofing systems in Singapore, is here to help you bring your vision to life. With our expertise and experience, you can create a remarkable outdoor environment that sets your business apart and enhances customer experience.
Don't miss out on the opportunity to enhance your business space with Vergola roofing systems. Contact VJF Systems today for a consultation and take the first step towards transforming your outdoor space into a remarkable and inviting environment.